Bible Articles
Good News From Realms of Glory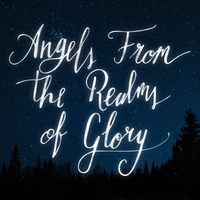 An old hymn contains the thought that angels from the "realms of glory", who had previously (Job 38:7) sung with joy about the creation of the world, later sang with joy as they announced the birth of Jesus to the shepherds (Luke 2:13,14). Jesus came from the realms of glory to bring the good news of the gospel to the whole world. It was, indeed, a glorious message!
Paul uses the expression "glorious gospel" in 1 Timothy1:11 and declares that the gospel had been committed to his trust. He uses similar words when he writes in 2 Corinthians 4:1-6 - "Therefore, since we have this ministry, as we have received mercy, we do not lose heart. But we have renounced the hidden things of shame, not walking in craftiness nor handling the word of God deceitfully, but by manifestation of the truth commending ourselves to every man's conscience in the sight of God. But even if our gospel is veiled, it is veiled to those who are perishing, whose minds the god of this age has blinded, who do not believe, lest the light of the gospel of the glory of Christ, who is the image of God, should shine on them. For we do not preach ourselves, but Christ Jesus the Lord, and ourselves your bondservants for Jesus' sake. For it is the God who commanded light to shine out of darkness, who has shone in our hearts to give the light of the knowledge of the glory of God in the face of Jesus Christ."
The purpose of this article is to note passages from the Bible and give thoughts about why the gospel is glorious.
The gospel is glorious because it portrays the love and power of God. Notice in these passages His love to us and power to save us:
John 3:16 - "For God so loved the world that He gave His only begotten Son, that whoever believes in Him should not perish but have everlasting life."
Romans 8:32 - "He who did not spare His own Son, but delivered Him up for us all, how shall He not with Him also freely give us all things?"
1 John 4:9,10 - "In this the love of God was manifested toward us, that God has sent His only begotten Son into the world, that we might live through Him. In this is love, not that we loved God, but that He loved us and sent His Son to be the propitiation for our sins."
2 Corinthians 5:19 - "...that is, that God was in Christ reconciling the world to Himself, not imputing their trespasses to them, and has committed to us the word of reconciliation."
The gospel is glorious because it depicts a loving Savior:
Romans 5:6-8 - "For when we were still without strength, in due time Christ died for the ungodly. For scarcely for a righteous man will one die; yet perhaps for a good man someone would even dare to die. But God demonstrates His own love toward us, in that while we were still sinners, Christ died for us."
2 Corinthians 4:14,15 - "...knowing that He who raised up the Lord Jesus will also raise us up with Jesus, and will present us with you. For all things are for your sakes, that grace, having spread through the many, may cause thanksgiving to abound to the glory of God."
The gospel is glorious because it meets our spiritual need for forgiveness--notice the conclusion of Peter's sermon on Pentecost:
Acts 2:36-40 - "Therefore let all the house of Israel know assuredly that God has made this Jesus, whom you crucified, both Lord and Christ. Now when they heard this, they were cut to the heart, and said to Peter and the rest of the apostles, 'Men and brethren, what shall we do?' Then Peter said to them, 'Repent and let every one of you be baptized in the name of Jesus Christ for the remission of sins; and you shall receive the gift of the Holy Spirit. For the promise is to you and to your children, and to all who are afar off, as many of the Lord our God will call.' And with many other words he testified and exhorted them, saying, 'Be saved from this perverse generation.' "
Our spiritual need for peace in our hearts is met through the gospel. Note the words of Jesus and of Paul in these passages:
John 14:27 - "Peace I leave with you. My peace I give to you; not as the world gives do I give to you. Let not your heart be troubled, neither let it be afraid."
John 16:33 - "These things I have spoken to you, that in Me you may have peace. In the world you will find tribulation; but be of good cheer, I have overcome the world."
Romans 5:1 - "Therefore, having been justified by faith, we have peace with God through our Lord Jesus Christ,..."
Romans 10:15b - "How beautiful are the feet of those who preach the gospel of peace, who bring glad tidings of good things!"
The gospel is glorious because of the solid hope it gives us for the future. A "crown of life" awaits all who accept the gospel and live for God. Paul and Peter wrote of their hope:
2 Timothy 4:6-8 - "For I am already being poured out as a drink offering, and the time of my departure is at hand. I have fought the good fight, I have finished the race, I have kept the faith. Finally, there is laid up for me the crown of righteousness, which the Lord, the righteous Judge, will give to me on that Day, and not to me only but also to all who have loved his appearing."
Peter wrote to his fellow elders:
1 Peter 5:4 - "...and when the Chief Shepherd appears, you will receive the crown of glory that does not fade away."
And to all Christians:
1 Peter 5:10,11 - "But may the God of all grace, who called us to His eternal glory by Christ Jesus, after you have suffered a while, perfect, establish, strengthen, and settle you. To Him be the glory and the dominion forever and ever. Amen."
The glorious gospel has the power to mold us more and more into the image of Christ, as we strive to be like Him (2 Corinthians 3:18).